Trademark Search
We deliver an availability search for similar pending or registered prior trademarks. The report contains a Assessment from a lawyer specialized in trademark law regarding the registrability of a trademark and the risk of collision with trademarks already registered.

Trademark Application
We process the trademark registration application in mainland China. The all-inclusive price includes our attorney fees and the government fee, assuming no refusal or opposition. We also handle trademark cases in Hong Kong, Taiwan and Macau.

Trademark Refusal & Analysis
The Trademark Refusal does not mean that your trademark cannot get registered.Our attorney can help analyze the reason of refusal. If the reason of refusal is not reasonable, the attorney will provide professional advice and suggestions to overcome the refusal and get your mark registered.
What are included in our Search Report?
1. Accord with the Law
Make sure the trademark will not violate the China Trademark Law.
2. Identical &Similar Search
Search in the CTMO database and check that if there is any identical or similar prior mark.
3. Risk Assessment and Advice
Base on the search result, the risk assessment and professional advice will be given by the attorneys.
4. Local Popularity Search
Search the trademark in the China search engine and check if the mark is under use in China.
Start my trademark search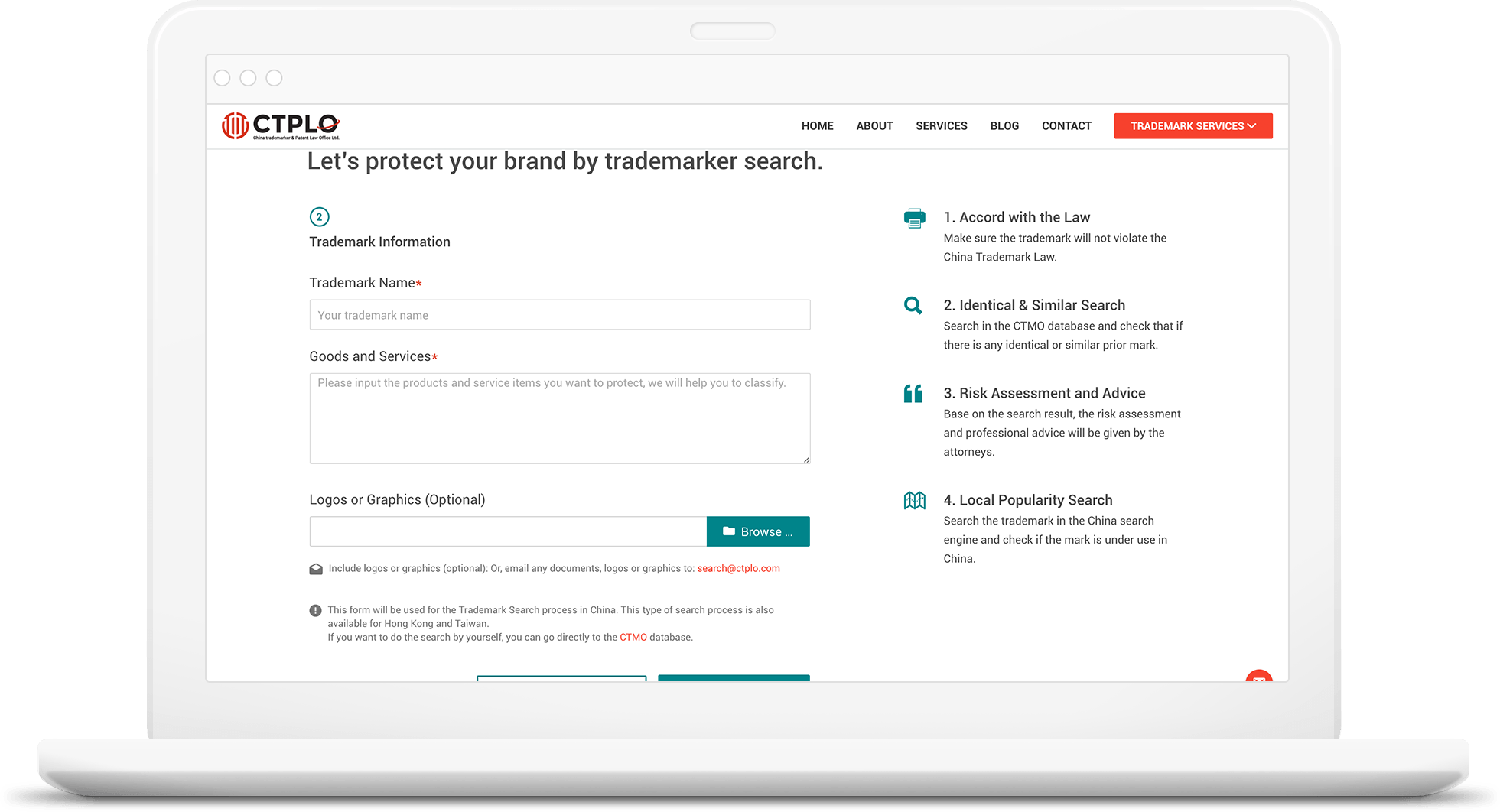 What are included in our Trademark Application?
1. Document Preparation
According to the information you provided, we'll prepare the documents for filing.
2. Trademark Filing
We submit the trademark registration application to the China Trademark Office.
3. Pay for the Official Fee
On behalf of the applicant, we'll pay for the Official fee as soon as we filed the mark.
4. Receive the Official Document
We duly receive the official Filing Receipt, Refusal Notice, Certificate, etc. And keep the applicant informed.
Start my trademark application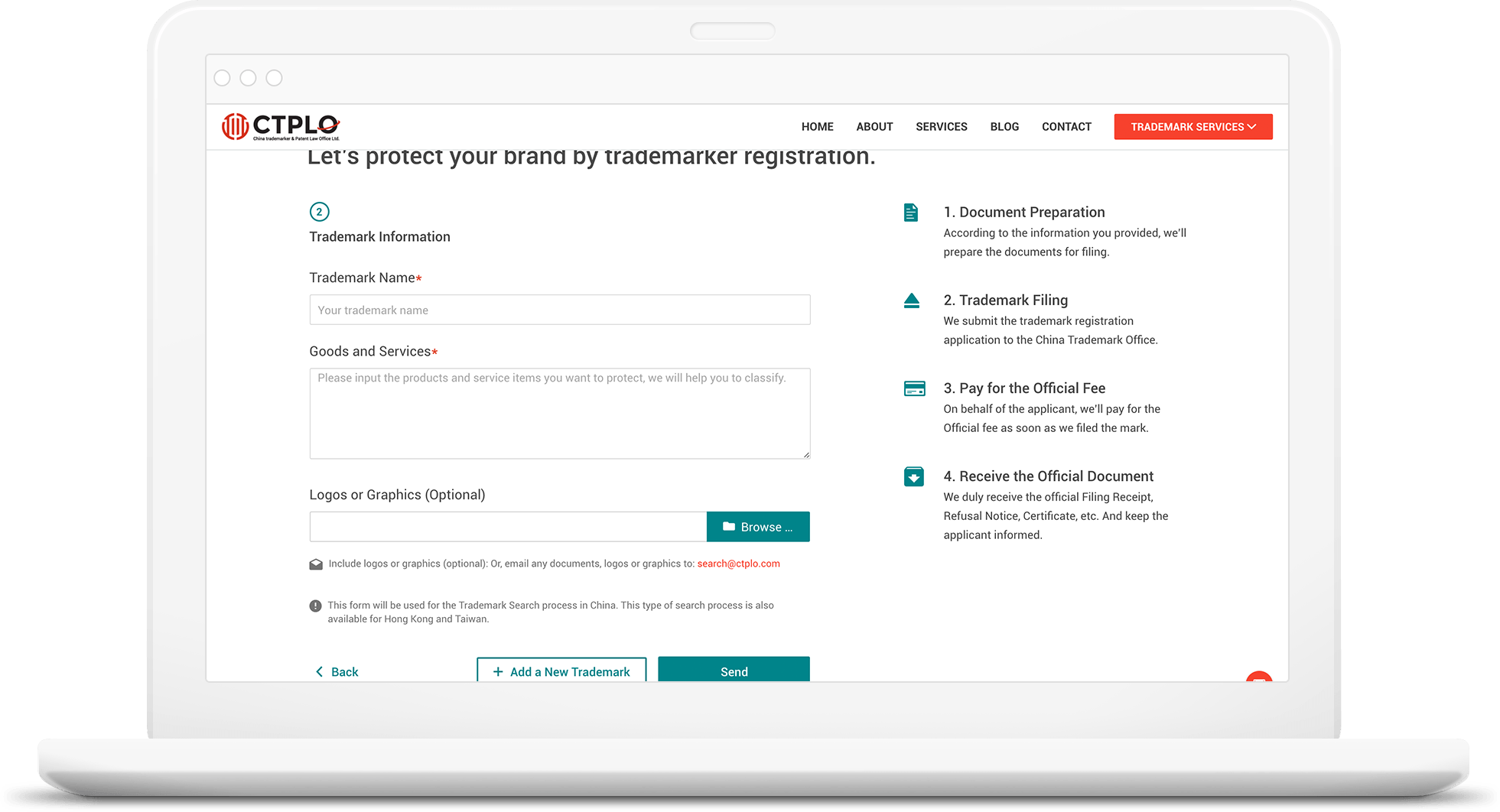 What are included in our Refuse & Analyze?
1. Analyze the Reason of Refusal
Study on the articles of laws in the Refusal Notice and analysis its rationality.
2. Cited Marks
Compare your mark with the cited mark and analysis the differences for overcoming the refusal.
3. Advice and Suggestions
Provide advice and suggestions on the basis of the Notice of Refusal.
4. Guide
Step to step guide for gaining the trademark final registration.
Start my trademark analysis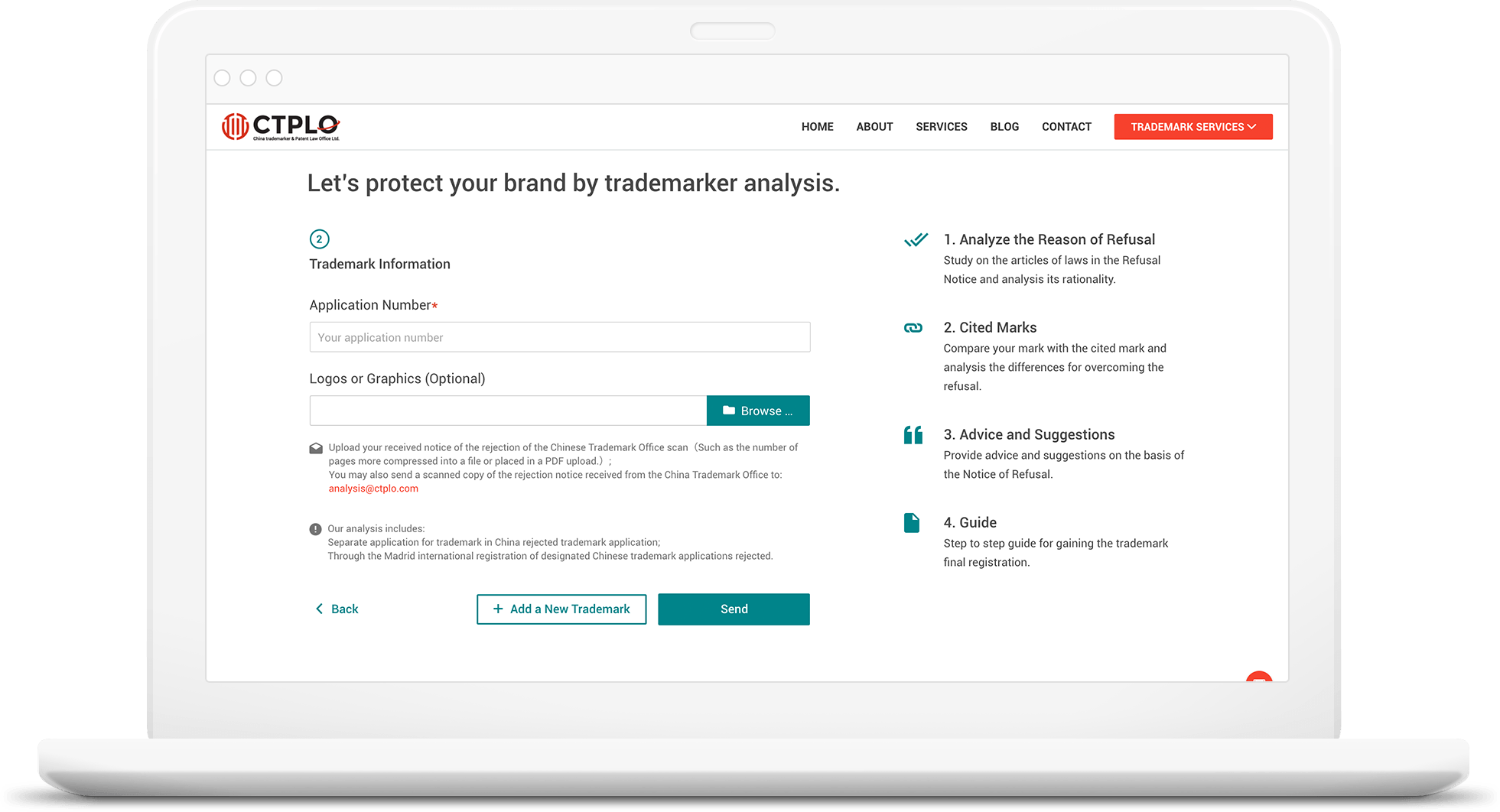 Companies we have worked with