Celebrity name trademarks kicked into spotlight
Flurry of filings of 'Mbappe' after French soccer star scores big at World Cup
While the curtain has fallen on the 2018 FIFA World Cup, competition on another turf is still going strong.
Kylian Mbappe, France's 19-year-old soccer star, shot to global fame during the World Cup after scoring twice against Argentina to put the French national team through to the quarterfinals.
The following day, China's national trademark office received 27 trademark applications containing the word "Mbappe" either in English or Chinese. Within six days, the number of filings had jumped to 137.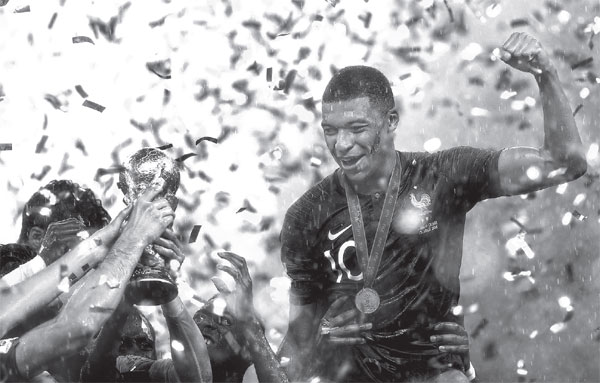 Kylian Mbappe, France's 19-year-old soccer star, celebrates winning the championship with his
teammates at the 2018 FIFA World Cup in Russia in mid-July.
Before the World Cup, which kicked off in Russia in mid-June, there had been 17 trademark applications on the French soccer player's name.
To date, the applications by a shoe manufacturer in Jinjiang, Fujian province and a glasses company in Danyang, Jiangsu province have been granted. Both applications were filed in 2017.
Using the names of celebrities as trademarks without authorization can result in huge legal ramifications and presents vast marketing risks, experts said.
Under he current legal system, authorities are not responsible for checking whether the filers of trademarks have permission to use the names of public figures.
Legal experts have said that public figures should pay greater attention to their commercial interests and challenge trademark filings that use their names during the three-month period allotted for disputes.
The Supreme People's Court rolled out a policy on trademark cases in January 2017, banning unauthorized use of the names of public figures as trademarks.
The policy issued by the highest court in China came into effect in March 2017 and will be followed by lower courts across the country. It is expected to relieve concerns by public figures and scale down trademark squatting, industrial insiders said.
As a result, even after the filings in question are registered at the trademark division of the State Intellectual Property Office, their legal status is still vulnerable to challenge in court.
Lin Dongliang, an intellectual property expert based in Fujian province, told People.cn, a Beijing-headquartered news portal, that the legal dispute between former basketball star Michael Jordan and sportswear manufacturer Qiaodan Sports is one of such cases.
Some businesses may later seek cooperation with sports stars to resolve the risks, but "it can't be a fundamental cure", Lin said. "The risk remains after their cooperation expires, for instance, for disagreement over payment for celebrity brand endorsement."
The businesses involved in trademark squatting will also encounter marketing and branding risks, People.cn quoted Yang Shuqing, a professor of the Business School of Huaqiao University in Fujian province, as saying.
"If a company uses a sports star's name as its brand, the move will leave its operation vulnerable to the celebrity's performance," Yang said. "Once there is negative news about him or her, or his or her popularity is waning, the company would face the risk of changing its brand.
"Companies need to get to the root of their brand growth, turning their attention to research and development, design and product quality to win the hearts of customers."