"HUYA" was Accused of Trademark Infringement
Recently, HUYA Inc. (NYSE: HUYA) was accused of infringing trademark right by Hangzhou Huya Advertising Co., Ltd to Hangzhou Binjiang District People's Court. The Session will open on November 24, 2024. Before the Session, HUYA Inc. submitted Jurisdiction Objection but rejected by the Court.
On 6th of April 2010, Hangzhou Huya Advertising Co., Ltd registered the mark "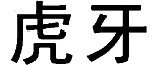 "(PINYIN: HUYA) with registration number 8182425 in Class 35 for service item "advertising planning".
HUYA Inc.has been doing business for LIVE since 2014. Services relating to advertising are the major income of HUYA Inc. If the court judges that the services provided by HUYA Inc.' is an infringement, besides stop using the trademark "HUYA" on services relating to advertising, HUYA Inc. may have to bear a massive compensation to Hangzhou Huya Advertising Co., Ltd.
If HUYA Inc. fails on the case, it is uncertain whether the price of its stock will be greatly influenced. We'll keep following the case and keep updating.
Comes From www.huyalitigation.com, Not CTPLO's Opinion.