Fake products in the crosshairs as buyers get more protection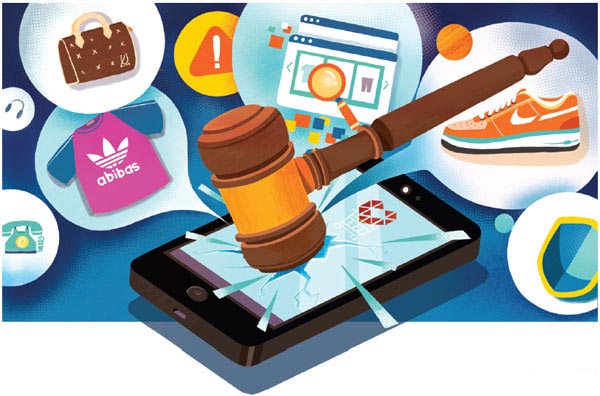 Intellectual property rights also strengthened amid e-commerce controversy
The market regulator is cracking down on those who manufacture and sell counterfeit or fake products after the Nasdaq-listed online discounter Pinduoduo was the center of heated debate for allowing third-party vendors to offer such goods in violation of intellectual property rights.
The crackdown will focus on manufacturing of counterfeit goods, trademark infringements, exaggerated promotion and illegal advertising, the State Administration for Market Regulation said on its website last week.
The campaign will be conducted to cover production, sales and other procedures. Local market regulation authorities have been told to start from online trading websites and investigate upstream and downstream manufacturers that are suspected of any illegal production activity. Results should be publicized punctually.
The move aims to protect the legitimate rights of consumers and trademark holders, safeguard and ensure a market that is equal and fair for all competitors, and provide an inviting environment for consumers and investors, the administration said in a statement.
A meeting with Pinduoduo was convened by the State Administration for Market Regulation, led by its department of online management, on Thursday. The administration required the company to strengthen the management of, and review of, commodities and traders, actively collaborate with regulators in investigations, comply with laws and regulations to maintain fair competition and bring real benefits to consumers.
Established in 2015, Pinduoduo claims it now has more than 300 million users. Though it went public on Nasdaq, thousands of goods sold on the platform were found to be counterfeit. For example, a television named "Xiaomi Xinpin" was not a registered trademark but was allowed to be put up for sale on the platform. One such TV set, sold for 300 yuan ($44), could possibly mislead consumers to believe the TV was made by the Hong Kong-listed smartphone maker Xiaomi, which also manufactures television sets, said Sun Yuhua, a lawyer specializing in intellectual property rights in Beijing.
In another case, a vendor sold T-shirts for 19.9 yuan with similar logo of German multinational company Puma.
Yang Yixin, a 34-year-old newspaper editor in Beijing and a 12-year online shopper, said she will accept the cheap t-shirt only sold for 19.9 yuan but will not accept such a t-shirt with a replicated logo. "Cheap products are fine. But why should they be connected with brands they are not allowed to use? Obviously, the platform did not check the products and the vendors might think consumers are as foolish as they thought," she said.
Sun, the lawyer, said that fake brands infringe intellectual rights of established brands. "Xiaomi Xinpin" has damaged the rights of Xiaomi, which can sue the vendor of the fake brand, Sun said. However, the cost of violation is negligible, making it hard to safeguard legitimate rights via lawsuits, Sun said.
In March, a number of State Council departments, including commerce, industry, quality and quarantine, were restructured as the new State Administration for Market Regulation to help improve market management and business environment. The State Council, China's Cabinet, also pushed forward business environment reforms.
China has reiterated its stance to better protect intellectual property rights and encourage innovation and business startups, and making counterfeits will not be tolerated, said Zhu Lijia, a professor of public management at the Chinese Academy of Governance.
Official figures showed that China spent $1.9 billion in 2001 on the use of overseas intellectual property rights, with the number surging to $28.6 billion last year. The increase demonstrated China's determination to further safeguard rights in this field, Zhu said.
The reappearance of fake brands and counterfeits reminded the public of the long way ahead when it comes to property rights protection, Sun said. Crackdowns and further opening-up can work together to force domestic companies to strengthen the awareness of such rights and help improve the business environment, Sun added.